Information design inspired by the 9th century CE
I am very interested in historical documents and spent time studying medieval European manuscripts. I am inspired by the use of visualization of systematic philosophies and world views. The diagrams, maps and illustrations provide me with constant creative ideas and ways of thinking about information.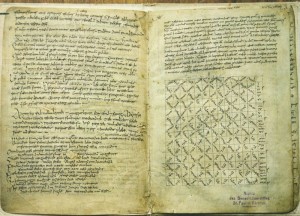 I wanted to take some time to recreate an astronomical table I found in the Reichenau Primer, (Reichenauer Schulheft) an early 9th-century manuscript from the St. Paul abbey library in Lavanttal, Carinthia (Stift St. Paul Cod. 86a/1). The Reichenau Primer is best known for the early medieval Irish poem, Pangur Bán about a monk and his cat. On the leaf opposite the cat is an astronomical table that caught my eye. Working through the insular script, I could understand enough medieval Latin to understand the chart. I think it is a table of phases of the moon according to astrological signs.
If we read the numbers along the right as days of a month, we see that every 2-3 days the moon moves into its sign. And knowing that the moon is in Aquarius on January first, we find that this table will work for the years 811, 811, 822, 830, 849, 860, 868, 887 CE.
—
Credits:
Original facsimile of the Riechenauer Schulheft, fol 1v/2, wikipedia.org/wiki/File:Reichenauer_Schulheft_1v_2r_kl1.jpg.
Basic information of the manuscript, web.archive.org/web/20040701204428/http://virtuelleschuledeutsch.at/literatur1/h1.htm
Medieval calendars courtesy of historical astrological ephemeris. www.astro.com/swisseph/swepha_e.htm. Julian Calendar created from Swiss Ephemeris, Copyright Astrodienst AG [26.8.2012] Julian Calendar 1 Jan = Greg. Calendar 5 Jan
---
Contact Us about Information Design
Next Work
App design: learning how to count calories →