New Parameters for Creative Strategy
I am a big fan of having a creative strategy, a clear approach to getting excellent creative work that is on target and on brand. Most people are in big favor of having excellent creative that is on target and on brand but they don't know how to get it. Many people feel it is a hit or miss process. I couldn't disagree more. When we create a strategy to outline the creative process and creative thinking required for this particular project, we can feel confident that the ensuing creative will be fantastic.
Remember that product formula for creative projects: quality vs. time vs. price, pick two? Well, those are parameters stem from last century's manufacturing paradigm, not a service paradigm. Of course there is some correlation of those parameters to a creative solution, but they ignore the efficiencies of experience, the specific demands of the creative process and the value of creativity and customization to the client.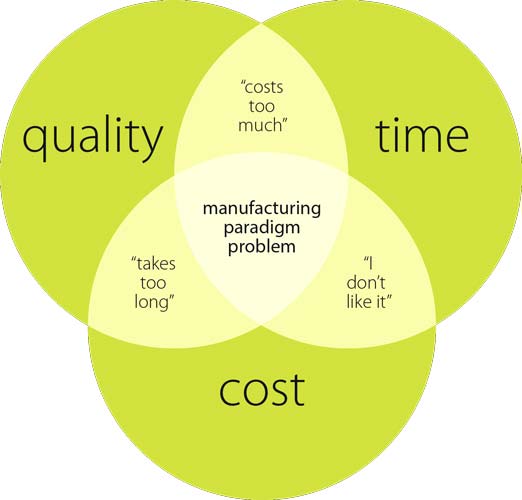 Instead, when we look at all the communication, brand, advertising, interaction, content, promotion or social needs of the client, we start to see that a new strategy for creative development is in order. The new strategy, a creative strategy, is a customized creative approach that results in creative development that meets marketing's needs, works for the sales team and results in stand-out creative development. When we outline the steps we are going to take give the client a full-scale creative solution based on new, creative strategy parameters, we're not just giving a tactical plan, we are creating confidence and building exciting expectations of what will follow.
The parameters of the new paradigm, a paradigm of creative strategy, may include:
target audiences simplification
success indicators identification
trend auditing and mapping
ideation workshops
ethnography/user understanding
sales / distribution maps
new media & presentation ideas
parallel path-making
brand identity reinvigoration
contemporary stylistic considerations
insights on newness
And these parameters need to be outlined for a specific, unique project, the steps need to be visualized and the vision of the work needs to be displayed to show the relationships of the steps, key inputs, brand strategy and deliverables. When I craft a visual strategy I work with the team to understand how we can show where we are and where we are going. I create an overview of the situation as well as a process map to get us where we need to go and I want everyone to see who is getting what. Everyone wants a map for the future of their project and the better thought through and better designed the approach, the more buy-in you will get and the more successful the project creative can be. Creative strategies are a mash up of account planning, account strategy, creative concept development, ideation and visualization. I create them as an effective tool to pitch, create consensus (or at least shared understanding), to point out aggressive timing or content demands, to plan for staffing and budgets and to ensure my team has clear expectations to work towards.
Creative strategies may be the unsung hero of the creative process because on most day-to-day projects all this happens, invisibly, inside the creative mind. A good creative thinker always considers these parameters. Of course the planner and account executive craft a creative brief with the critical mandatories/client asks and a good creative brief is itself a mandatory. However, the rich story for a successful approach to good creative comes from those who live the creative process, can peer into the future to imagine the best path to good creative and can clearly present the approach internally and to the client.
I'd love to know how you approach creative strategy, how you communicate it and how you've found it beneficial. And I'm always happy to talk more about my approach.
Subscribe to our newsletter 
Next Post
Why I started Smart Hive →